Gown and Hood Rental for Photographs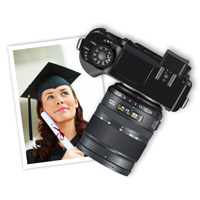 The last day for rentals for 2023 is December 8th.
Please note that this service is NOT for the Convocation ceremonies. Visit the Convocation webpage to book your gown and hood for that special day.
All booking requests must be made by submitting this online form.
Phone calls, voicemails and/or email messages will no longer be accepted.
Gown and hood rentals can be picked up on Fridays only and must be returned on the following Monday to allow for the appropriate quarantine time of the gowns and hoods.
Please do NOT book your photographer until you have received confirmation of your booking from the Bookstore via email.
There are limited quantities of hoods for each degree and bookings will be confirmed on a first come first serve basis.
Gown and hood rental cost is $50 (which includes the cap that you keep)
A minimum deposit of $50.00 must be made at time of rental.

The deposit amount will be refunded upon the return of rental goods in original rental condition.
Deposits will only be refunded to the credit or debit card originally used to pay the deposit.

Any late returns will cost $10 per day, up to the price of the regalia.
Gowns and hoods must be returned in the bags provided or a handling fee of $3 will also be added upon return.
Gowns must be returned on Monday when the Bookstore is open
Our current Bookstore hours are 10:30am-4:30pm, Monday to Friday, closed on weekends.
Gowns and hoods are not to be taken out of province or general vicinity of St. John's.